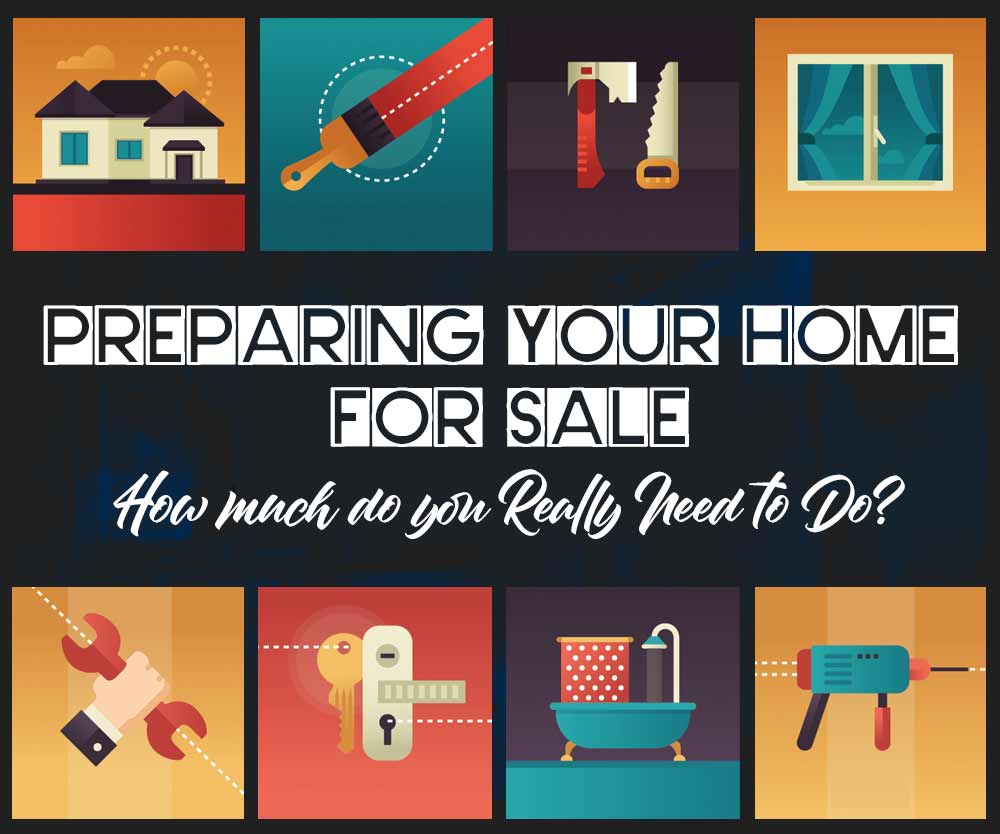 Preparing your Home for Sale
Naturally, you want to put your best foot forward in preparing your house to look its very best for potential home buyers once you have decided to put it on the market. You may be thinking that the better your house looks the more offers you'll likely get, but this isn't necessarily true. You should probably make a checklist of those things that need an upgrade or some type of repair. Once you do this you may feel a bit overwhelmed and wonder if you need to do everything you've listed, as completing all those tasks will cost you a lot of money and effort.
Selling a house can be challenging in terms of selecting what must be done, what should be done, and what needn't be done. Generally, you should fix anything that impedes the features of those systems that are usually expected to work, such as plumbing, foundation issues, electrical issues, bug invasions, and any other safety concerns that could lower your home's value as well as risk the safety of prospective home buyers. In evaluating what to repair or remodel, it's important for you to understand that you will not get a return on your financial investment in most cases. Below are some projects that you don't need to worry too much about:

1. Having the most cutting-edge kitchen appliances. Of course, everyone would love this, however, they may not be willing to pay much over your asking price for them. Old but working appliances probably don't require changing if they are clean and in good working order. If you do need to replace a non-working dishwasher, refrigerator, or stove, you would do well to buy used.

2. Remodeling the kitchen and/or bathrooms. Whether to invest money in these projects is a very common seller question. Remodeling any room is an expensive endeavor, especially when you realize that kitchen remodels will only get you around a 57% return on investment, and remodeling a bathroom will only return a tiny bit more.

3. If your home is carpeted, unless there are really serious stains and odors, there is usually no need to replace them, especially if you invest in hiring a professional to clean them. The reason is that the new buyer may very well have their own ideas about the type of flooring they want – and it may very well not be carpet. If you have hardwood floors it's important to clean and shine them up prior to showing your home. If they are damaged, an experienced REALTOR® can advise you on what, if anything, needs to be done.
Not getting a good return on your remodeling investment is only one reason not to do too much, as your idea of a fabulous kitchen or bathroom may be completely at odds with what a prospective buyer wants. Consequently, it's better to keep your selling price as reasonable as possible by not spending so much money that you have to raise it. Lots of people like to buy homes that need upgrades because the price is lower, which allows the new owner to choose the upgrades that are important to them.
Enhancing your home's aesthetic charm can be inexpensive and efforts here could pay big rewards. But keep in mind that styles come and go, so you should stick to classic styles whether you're replacing cabinet knobs, a bathroom or kitchen faucet, light fixtures, or ceiling fans. Neutral designs and styles will help your house appeal to the biggest pool of home buyers. This also applies to paint colors. It isn't unusual for homes with purple or lime green walls anywhere in the house to sit on the market longer than other homes that offer more neutral and consistent colors.
One of the best reasons to work with an experienced Listing Agent is that over many years he or she has developed a deep understanding of what buyers want and what they don't want. An inexperienced or new Listing Agent, on the other hand, could give you bad advice that will have you spending money that you will not recover when your home sells. Here's what this looks like – the seller is advised by the inexperienced agent to invest in updates and renovations which raises the asking price of the home; the home doesn't sell at that price, so they end up having to keep dropping the price to get the house sold, thus losing all that money that went into improving the property.
If you want the best advice from a REALTOR® with 30 years of experience working with buyers and sellers, call Pamela Walters at (903) 581-3900. In real estate, there really is no substitute for experience!