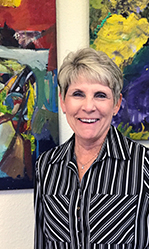 About Joyce Warrington
Joyce is a lifetime resident of Texas and is proud to have called Tyler home for most of her adult life.
Joyce has always had a joyful passion for real estate, evidenced by her personal experiences in buying and selling several homes over the past several years, all of which have been with Pamela Walters as her agent. Her respect and appreciation for Pamela's code of ethics and commitment to excellence is what inspired Joyce to join her team. And, she hopes to pass this on to homeowners as she works with them in achieving their unique home ownership needs.
Joyce and her husband Allen have two children and one grandson. She loves spending free time with her family, friends and community activities.
Client Reviews
Joyce was awesome. She not only treated my wife and I like we were her 1 and only priority, but she made us feel like she was just a friend of the family looking out for our greater good. Joyce and the Pamela Walters Group appealed to us because we were treated like they NEEDED our business and not just a number to increase financial status. Every house we looked at, Joyce explained what she looks for in buying a home for herself and gave us helpful advice to look at before we decide on the right one. I can't say enough about her so I'll end with this, If I or a friend ever need to sell or purchase a home She will be the first person I call. Thank God it's people like Joyce still in this world making life just a little bit easier. Josh Brooks, Tyler, TX