East Texas & Tyler, TX Land for Sale – Farms, Ranches, and Acreage for Sale
Searching for Tyler, TX land for sale can be a roller coaster of emotions, from thrilling to frustrating to exhausting. Whether you're buying land to build the home of your dreams or looking for a promising investment, it's important to know the best way to search when you're looking to buy acreage.
Choosing a Farm or Ranch That's Right for You
Not everyone knows the difference between a farm and a ranch. Farms may draw resources from multiple different types of plants and animals while ranches are more likely to specialize in one area like cattle or sheep.
What it's called doesn't really matter. The Pamela Walters Group can help you find land for sale Tyler, TX that fits your dreams, needs, and goals.
Sifting Through Texas Farms for Sale
Finding the right ranch for sale or farm for sale in East Texas starts with identifying what's behind your desire to own land.
Do you picture yourself living in a modern upscale farmhouse with large windows and a wrap-around porch in the front? Do you see yourself waking up in the morning to gather fresh eggs and frying them on your commercial quality gas range? And when you hear the horses out back do you grab your riding boots from the mudroom to visit your favorite mare across green pastures. If so, your home and land will have features conducive to the lifestyle you envision.
Or maybe your wishes are income-based. If your goal is to raise crops or chickens on a large scale, The Pamela Walters Group can help you find farms for sale in Tyler, Whitehouse, Bullard and Flint that meet your goals.
Ranches for Sale in East Texas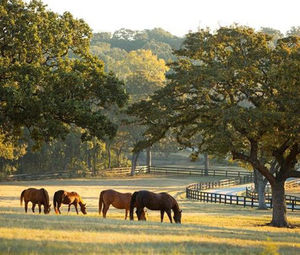 There's something quintessentially Texan about owning a ranch, especially if you raise cattle! Whether you have livestock or not, looking out over acres of rolling pasture is both peaceful and powerful. Whether the sun bakes the earth, lightning punishes the landscape, or spring blankets the fields, you own everything you see.
There are properties listed as ranches for sale in East Texas, but it is good to look at any large tracts of land for sale. It may not specifically be called a ranch on the real estate listing, but your home and property can become whatever you want it to be.
Local Listings: Land for Sale
Pull up local listings for land for sale or acreage for sale and you'll find results that sprawl over a huge area. For most people, location is important. That's where working with The Pamela Walters Group can help save you time and find the perfect match.
If you want to narrow your search to land for sale in Whitehouse or large tracts for sale in Lindale, we have the resources to help. When you want to buy a ranch in Jacksonville or look at land for sale in Bullard, we'll send the local listings straight to your inbox.
With our extensive contact network, we often hear of new listings before they even hit the market. That gives you the first chance at striking a bargain.
Unrestricted Land
Many native Texans value their independence. They don't want to be told what to do with their own land. Unrestricted land near Tyler, TX doesn't come with the same restrictions that other properties might. There are often fewer rules about the type of house you can build or the species of animals you can keep. It's less regulated and you may have more freedom.
While this type of land may be classified as unrestricted, it still has limits. Sometimes there are deed, easement, or zoning restrictions.
This is just one of the reasons why working with a REALTOR® who knows what they're doing is so important. If there are restrictions on the property that you may not be aware of, it could be troublesome and costly for you. We watch out for your best interests.
Searching for East Texas Hunting Land
When you own hunting land, it's completely different than hunting on someone else's property or public property. You can control how your land is hunted.
It's not just about pride; it's about the safety of your property and the investment. If you're looking for hunting land for sale in East Texas, there has never been a better time to buy.
Having your own hunting land can be beneficial in several ways. Whether you are hunting it yourself or allowing others to hunt it, you set the rules. You can put up fences and raise larger game. You can also keep unwanted species out. It increases your own security when you know who is hunting nearby and know that they are following your pre-determined safety protocols.
Buy Land With Home or to Build on Your Land
Buying a home can be stressful but exciting. There is always the question of whether you should buy land with a home or purchase undeveloped land and build.
No matter what you decide, The Pamela Walters Group can help you do your research. Investing in acreage only or buying a home with land isn't just about a price difference. We can help you weigh cost against benefits.
When you work with the right REALTOR®, the whole process goes more smoothly. Speak with a professional at The Pamela Walters Group today and figure out the next step towards your brand-new home with land.
Adding Land to Your Assets
No matter what type of land you buy, it's an investment. Just purchasing land can benefit you in so many ways. If you buy it in the right place, it appreciates over time.
What Can You do With Your Land?
Basically, when you buy land for sale in East Texas, the only limits are your budget and your imagination.
Dig a pond, stock it with fish and spend spring mornings and summer evenings fishing its banks. Install an apiary with beehives, gather your own honey and beeswax to sell at the East Texas farmer's markets. Have timber land for the tax exemption, but also for the enjoyment you get when you hike your own forests and draw in deep breaths of pine. Teach your grandchildren how to raise cattle, identify birds and avoid poison ivy.
Use land as an investment when you build a campground or a stable. Turn it into a recreational facility like a paintball course or an ATV park. There's no shortage of things you can use your property for, many of them beneficial not only to you, but also to others.
Search East Tx Land for Sale
Buying acreage or large estates is easier than ever. The Pamela Walters Group has all the resources you need, all in one place. We'll help you find the property that's right for you and guide you through the decision-making process. You can trust our East Texas real estate professionals to have your back.
Whether you are buying property to add to your assets or selling your own home with land and moving into a new one, talk to The Pamela Walters Group. We have experience throughout the East Texas area for all your real estate needs.
Browse through the listings below then give us a call to find the right property for you so you can start viewing East Texas land for sale today.